Sri Maha Ganapathi Homam Manual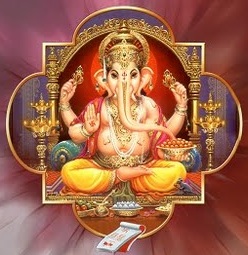 You can use the resources below to perform a Mahaganapathi Homam by yourself. Homam or havan is a Hindu fire ritual.
Download a Mahaganapathi Homam manual (version dated 2009 April) with mantras in Sanskrit, English, Telugu, Tamil, Kannada or Malayalam or one with both mantras and instructions in Gujarati. The instructions are in English in all manuals, but mantras are written in various languages.
Thanks to Chaitanyashakti (Alex Lewinsky), a complete Russian translation of the manual can also be downloaded now.
This manual explains all the details of a quick 30-45 minute homam procedure that can be repeated daily or weekly or monthly, along with the mantras involved. The document is very detailed and appropriate even for a total novice. You can download free software to view PDF files at http://www.adobe.com/products/acrobat/index.html.
The introductory portion of the document are reproduced below in HTML format. Please scroll down to read it.
Audio
Download the audio MP3 file. You can play this MP3 file and perform homam by yourself by pausing and playing. You can click the right mouse button on the link and click "Save Target As" in the pop-up menu to save the MP3 file on your computer. The audio is about 38 minutes long.
You can use MP3 players like Media Player to play this file. You can download one such MP3 player from the site http://www.oldapps.com/MusicMatch_Jukebox.htm.
Video
Important note: Please note that the latest version of this document contains a super-short procedure that has bare minimum mantras, so that even those who are very uncomfortable with Sanskrita can perform a homam. Please refer to Appendix B in the document for this super-short procedure.
Download the quick reference (cheat sheet) containing only mantras in Sanskrit, English, Telugu, Tamil, Kannada or Malayalam. These documents contain only mantras. One should first download the full manuals and learn the procedure. After one becomes comfortable, one may want to just print the quick reference and do homam using it.