Research: Dating of Mahabharata
By Dr Manish Pandit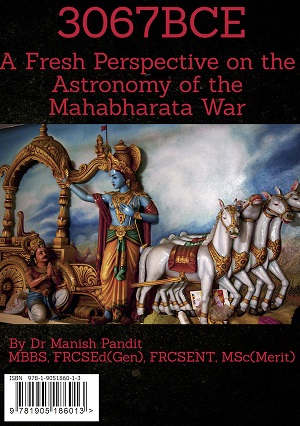 Download the ground breaking book A fresh Perspective on the Astronomy of the Mahabharata War by Dr Manish Pandit.
A testimonial by Prof B.N. Narahari Achar, Professor Emiritus of Physics at University of Memphis, Memphis, TN, USA
Dr. Manish M. Pandit is an indefatigable worker in the cause of bringing out the correct interpretation of the traditional lore of our heritage through the medium of film. Now he is a veritable researcher and scholar of our epic, the Mahabharata, and he must be whole heartedly congratulated for his book "3067 BCE, A fresh perspective on the astronomy of the Mahabharata war." Taking off from where he had left in his first film, "Krishna, History or Myth', he has turned on his incredulous ability and energy to un-fathom the mysteries of the astronomical puzzle preserved hidden in the epic. He has proposed a modified theory of Krishna's mission for peace, the Tri-pushya theory, he is able to account for every little detail in Balarama's pilgrimage, Bhishma moksha episode, comets galore which appeared foreboding the great disaster of the war, in addition to the well discussed planetary positions and eclipse phenomena of the epic. The book is full of color illustrations, copious tables and other data that can be checked by anybody.
A famous Kannada poet describing the work of Gadugina Naranappa (Kumara Vyasa) on Mahabharata said the following:
"KumAra VyAsanu hADidanendare kaliyuga dwaparavAguvudu, BhArata kaNNali kuNiyuvudu"
When Kumara Vyasa sings, Kaliyuga turns into Dwapara and the whole of Mahabharata dances in front of our eyes.
A similar statement can be made about this book of Dr. Pandit, with all the illustrations and tables it displays. This book is not for easy-chair reading, but belongs in the library of every person who has a serious interest in historical aspects of our epic.
You can watch several interviews of Dr Manish Pandit on this topic.
With Dr Subramanian Swamy
View Dr Manish Pandit's interview with Dr Subramanian Swamy's Gyaan Ganga channel on the dating of Mahabharata
With Sattology
View Dr Manish Pandit's interview with Sattology chennel on the dating of Mahabharata
With PGurus (part 1)
View part 1 of Dr Manish Pandit's interview with PGurus chennel on the dating of Mahabharata
With PGurus (part 2)
View part 2 of Dr Manish Pandit's interview with PGurus chennel on the dating of Mahabharata
Workship Part 1
View Part 1 of Dr Manish Pandit's online workshop on the dating of Mahabharaa war
Workshop Part 2
View Part 2 of Dr Manish Pandit's online workshop on the dating of Mahabharaa war